LinkedIn Advertising
Powerful Targeting. Powerful Audiences.
Influence and connect with key decision-makers that matter most to your business and generate a steady stream of leads and revenue.
We drive digital growth for leading brands
THE CORE OF social PERFORMANCE
Grow your reach with an
audience that means business
Harness the power of the world's largest professional network and start building your sales pipeline by targeting key decision-makers that matter most to your business. With over 610 million members, LinkedIn offers a unique opportunity for businesses looking to generate quality traffic and leads through the sheer power of its targeting capabilities. By combining LinkedIn's rich demographic information with your first-party data, we equip your business with watertight targeting and laser in on your most valuable audiences to deliver unparalleled ROI.
Executing a profitable LinkedIn strategy is complex, and involves industry experts who are at the cutting-edge of LinkedIn's algorithm updates and technology to ensure your strategy is performing optimally to meet your business's objectives. It's no surprise social media marketing performs best when it's integrated with your PPC and SEO strategies, as it delivers the necessary cut-through to stand out from the competition and reinforces your brand authority to the people who matter most.
We'll simplify the complexities of LinkedIn advertising through crafting powerful content and direct-response strategies that accelerate your leads and sales – delivering data-driven insights with clear, measurable results!
Integrated social media strategy to accelerate your revenue
We augment first and third‑party data with personalisation to target the right audience, no matter where they are
Data‑first mentality that consistently maximises your ROI
A successful LinkedIn strategy requires an experienced team of creative, analytical, and social media specialists to develop a highly targeted strategy that is 100% aligned to your objectives – whether that's increasing leads, sales, or growing brand awareness. Our multidisciplinary team of social media experts make your LinkedIn advertising work harder by overlaying powerful demographic data with audience personalisation – making LinkedIn one of the most profitable channels for your business
Social Media Management
We deliver a carefully executed and integrated approach to social to ensure we get the right balance between paid and organic – whether your goals are brand awareness, traffic, or a consistent stream of high‑value leads and sales.
Social Listening
Be informed of what people are saying about your brand, competitors, or industry in real‑time using the most sophisticated social listening tools. Quickly identify customer queries, re-share user-generated content, or engage with prospects to convert them into customers.
Influencer Marketing
Grow your reach and brand exposure no matter your industry, by leveraging our extensive network of social influencers. Tap into their loyal network of followers by letting them endorse your product or service to grow your sales and revenue.
Training & Consultancy
We provide end‑to-end training and consultancy services for all your social media advertising needs. Whether you need a revenue shifting strategy or 1:1 training on how to effectively manage your campaigns, no project is too big or small.
End-to-end Social ROI
Our experienced team of social experts evaluate and optimise social advertising performance beyond basic engagement metrics, tracking leads, and sales down to the individual visitor to maximise your sales and ROI.
Content Strategy
We craft and execute high‑impact content that is driven by your target audience. We convert more customers using personalisation to ensure we are communicating to the right audience, with the right message, at the right time. Cross-device.
Audit and Strategy
Let our industry‑leading team of social specialists review your current strategy to dramatically improve your ROI by unlocking missed opportunities and fine-tuning your audience, creative, and bidding strategy to convert more of your ideal customers.
Audience Discovery
Want razor‑sharp targeting to reach and convert more high-value customers? Our experienced digital strategists can help formulate a bullet-proof audience map to pinpoint who and where you should be focusing on to drive game-changing ROI.
Identify, attract and convert more sales with LinkedIn
Captivate, engage, and influence key decision-makers that matter most to your business.
Savvy businesses use LinkedIn to grow their reach and to connect with key professionals who have two times the buying power of your average website visitor. With razor-sharp targeting capabilities, LinkedIn offers the ability to segment and communicate with high-value audiences that are more likely to buy from you, resulting in more leads and lower cost per acquisition.
Let our team of LinkedIn advertising specialists show you how to build authority and influence through crafting a high lead generating strategy that targets key decision-makers in the world's most viewed professional news feed. We combine native and first-party data to deliver hyper-targeted personalisation to ensure your ads are targeting the right audiences, at the right time, with the right message.
PERFORMANCE GUARANTEED
By leveraging our own proprietary data intelligence technology and combining this with first-party audience insights, it allows us to analyse thousands of different data points to deliver superior campaign performance. Our unique approach to digital strategy and execution simply unlocks real revenue opportunities and is what sets us apart from other digital agencies to drive scalable, cost-effective, and outcome-driven digital performance.
COLLABORATIVE AND ADAPTABLE
We are a high functioning and experienced team of digital and technical specialists that's core focus is delivering performance for our clients in a fast pace environment. We see ourselves as a collaborative partnership, an extension of your own team, industry experts who understand the entire digital ecosystem, from sophisticated tracking configurations, data analytics, and web programming, to multi-channel strategy and execution – the necessary tools needed to gain a competitive advantage.
HIGH RETENTION & PROVEN SUCCESS
We pride ourselves on delivering a proactive and innovative approach for our clients – no matter how big or small, as we believe these are the foundations of a great partnership in achieving tangible business growth. Our proven ability to drive scalable and efficient digital performance underpins our long-standing partnerships with both small and leading ASX listed brands, making us one of the fastest-growing agencies in Australia.
Clearer Data.
Smarter Decisions
Using advanced analytics and custom reporting, we simplify your data to deliver clear, actionable insights that generate leads and sales. By strategically segmenting and analysing multiple audience profiles of your customers, ensures that we are purely focusing on high-intent customers who are most likely to purchase – driving efficient, targeted, and a scalable return from your LinkedIn advertising.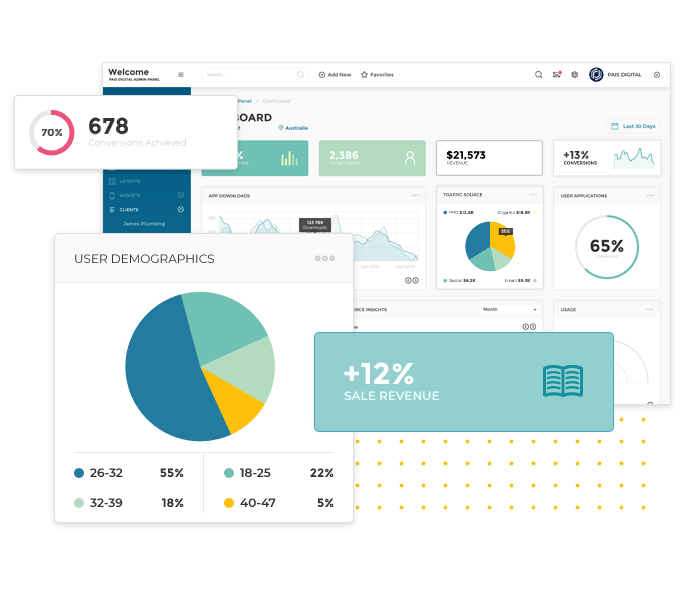 We believe in transparency
We don't work in a black box. We provide 100% transparency on everything that we do and deliver clear, measurable results. And your data is always yours!
We build partnerships
We are not just another digital agency. We pick you just as much as you pick us. This means: we only partner with you if you're truly invested in growing your business.
We deliver results
We guarantee unrivalled LinkedIn performance by developing and executing integrated, data-driven campaigns that deliver real revenue and ROI.
MORE LEADS. MORE REVENUE. MORE PROFITS
Double your sales in the next 90 days. Starting today.
We'll reveal the proven secrets that double your leads and sales almost instantly by booking a FREE 30-Minute Strategy Session Call Today. (Value $1,549)
No obligation, no catches. Just honest advice to help you make the most informed decisions.
We partner with the best to give you an unfair advantage
Data informs everything we do, and that's why we leverage key partnerships with the best SEO technology providers in the industry to allow us to develop a bespoke and highly targeted SEO strategy that pushes you ahead of the competition.
AMERICAN EXPRESS OPENAIR CINEMAS
See how we drove 42% increase in transactions whilst reducing acquisition costs by 19% in the first year
SOCIAL | SEARCH
THE SUN-HERALD CITY2SURF
How an audience-first digital strategy generated a 378% increase in online conversions.
SOCIAL | SEARCH | PROGRAMMATIC | REMARKETING

Driving growth and competitive advantage for digital-first brands
Strong Partnerships. Diverse Industry Experience