Google Shopping
Get Your Products in Front of Hungry Customers
Explode your sales in the next 30 days with a Google shopping campaign that targets and converts more customers looking for products like yours.
We drive digital growth for leading brands
THE CORE OF PAID PERFORMANCE
Retail-centric campaign management that maximises your sales
Can your business handle a ton of new product sales in the next 30 days?
We hope that's a yes and join many other retailers skyrocket their profits with the single fastest way to promote your products online using Google shopping.
Product shopping campaigns significantly boost targeted traffic to your website or brick-and-mortar stores, resulting in game-changing sales and revenue for your business. It provides a simple and flexible way to get your entire product catalogue in front of ready-to-buy customers who are actively searching for your products.
Appearing in a more visual ad format at the very top of Google's search results, consisting of a product image, description, reviews, and pricing, enables customers to get a strong sense of what you're selling before they visit your website and encourages high-intent customers to buy from you.
With lower Cost-Per-Click (CPC) and 30% higher conversion rates compared to text ads, we help retailers successfully showcase their products, promotions and special offers to maximise their exposure and sales growth.
We simplify the complexities of Google Shopping and product feed management and show you how to succeed across Google's shopping network.
Integrated PPC Management Services
Combining data, expertise & technology to guarantee ROI
Cutting-edge capabilities that accelerate your revenue
Google shopping management requires a talented team of technical, analytical, and digital specialists to develop and efficiently optimise your shopping campaign so that it consistently drives a reliable and scalable stream of sales and revenue. Our end-to-end expertise of digital talent doesn't just focus on clicks, we also optimise your customer's path to purchase to improve conversion rates and use data to give you a competitive advantage and ensure Google Shopping is the most profitable channel for your business.
Real-time automation
Providing the ability to pause or activate campaigns, or individual products based on defined business rules – at scale and in real-time.
Competitor monitoring
Monitor and set alerts for competitor pricing and inventory comparisons to guide bidding or promotion price points.
Third-party integration
Use third-party systems (eg. CRM, Inventory Management System) to drive campaign strategy or trigger tactical promotions for your customers.
Live & dynamic pricing
Instantly display real-time or dynamic pricing in ads to amplify promotional messaging and stand out from your competition.
Product & inventory intelligence
Improve campaign efficiency by eliminating wasted budget on out of stock products using real-time product inventory indicators.
Real-time reporting
Get real-time visibility and advanced reporting on the performance of your campaigns 24/7.
Promote your products and skyrocket your sales
Showcase your entire product inventory in front of ready-to-buy customers.
Whether you're looking to increase more sales online or from your brick-and-mortar stores, our experienced team of certified Google shopping specialists will show you how to unlock your revenue potential using the most sophisticated and proven shopping campaign practices.
Your Google shopping campaigns' performance and success is dictated by your product feed structure and overall bidding strategy. That is why we deliver end-to-end Google shopping management, combining Google Ads and technical specialists to make sure your campaigns are super profitable.
We use proprietary technology to validate your product feeds are built, optimised and managed to best practice guidelines, giving us enormous flexibility to optimise product titles and descriptions at scale – removing the guesswork to make sure your campaigns are set up for success.
By being at the forefront of industry updates and betas, allows us to be efficient and deliver unrivalled campaign performance – keeping your business one step ahead of the competition.
PERFORMANCE GUARANTEED
By leveraging our own proprietary data intelligence technology and combining this with first-party audience insights, it allows us to analyse thousands of different data points to deliver superior campaign performance. Our unique approach to digital strategy and execution simply unlocks real revenue opportunities and is what sets us apart from other digital agencies to drive scalable, cost-effective, and outcome-driven digital performance.
COLLABORATIVE AND ADAPTABLE
We are a high functioning and experienced team of digital and technical specialists that's core focus is delivering performance for our clients in a fast pace environment. We see ourselves as a collaborative partnership, an extension of your own team, industry experts who understand the entire digital ecosystem, from sophisticated tracking configurations, data analytics, and web programming, to multi-channel strategy and execution – the necessary tools needed to gain a competitive advantage.
HIGH RETENTION & PROVEN SUCCESS
We pride ourselves on delivering a proactive and innovative approach for our clients – no matter how big or small, as we believe these are the foundations of a great partnership in achieving tangible business growth. Our proven ability to drive scalable and efficient digital performance underpins our long-standing partnerships with both small and leading ASX listed brands, making us one of the fastest-growing agencies in Australia.
Clearer Data.
Smarter Decisions
Using advanced analytics and custom reporting, we simplify your data to deliver clear, actionable insights that generate sales and revenue. By strategically segmenting and analysing multiple audience profiles of your customers, ensures that we are purely focusing on high-value audiences who are most likely to purchase – generating more sales and maximising your ROI from your Google shopping campaigns.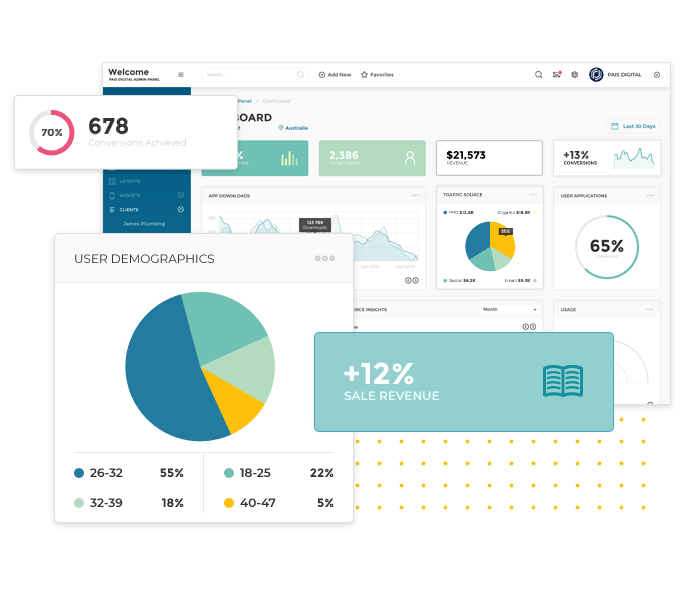 We believe in transparency
We don't work in a black box. We provide 100% transparency on everything that we do and deliver clear, measurable results. And your data is always yours!
We build partnerships
We are not just another digital agency. We pick you just as much as you pick us. This means: we only partner with you if you're truly invested in growing your business.
We deliver results
We guarantee unrivalled Google shopping performance by developing and executing integrated, data-driven campaigns that deliver real revenue and ROI.
MORE LEADS. MORE REVENUE. MORE PROFITS
Double your sales in the next 90 days. Starting today.
We'll reveal the proven secrets that double your leads and sales almost instantly by booking a FREE 30-Minute Strategy Session Call Today. (Value $1,549)
No obligation, no catches. Just honest advice to help you make the most informed decisions.
We partner with the best to give you an unfair advantage
Data informs everything we do, and that's why we leverage key partnerships with the best SEO technology providers in the industry to allow us to develop a bespoke and highly targeted SEO strategy that pushes you ahead of the competition.
AMERICAN EXPRESS OPENAIR CINEMAS
See how we drove 42% increase in transactions whilst reducing acquisition costs by 19% in the first year
SOCIAL | SEARCH
THE SUN-HERALD CITY2SURF
How an audience-first digital strategy generated a 378% increase in online conversions.
SOCIAL | SEARCH | PROGRAMMATIC | REMARKETING

Driving growth and competitive advantage for digital-first brands
Strong Partnerships. Diverse Industry Experience