Conversion Rate Optimisation
Stop Wasting Over 96% of Your Advertising Budget
Maximise your sales and revenue from your existing traffic using data-driven conversion optimisation that gives every audience a personalised experience.
We drive digital growth for leading brands
THE CORE OF UX PERFORMANCE
Increase your sales without paying for more traffic
In a highly competitive and campaign-driven industry, it's quite common for businesses to pay more attention to media performance than the lead or sale itself. Yet even a small percentage improvement in conversion rate can drive enormous value, making conversion rate optimisation the single most important tactic for maximising the performance of your marketing activities.
We've executed thousands of tests for our clients and invested over 15,000 hours of data analysis which has formulated our highly recognised conversion optimisation methodologies. We look to grow and retain your visitors through audience-driven experimentation and personalisation, delivering experiences that capture your prospects' attention and turns them into ready-to-buy customers.
We'll incrementally grow your sales and revenue using our full-funnel approach and systematic testing that is driven by research and science.
Full-funnel conversion optimisation for game-changing ROI
Maximise your return on advertising spend through precision testing, actionable insights, and personalisation.
A/B testing
Turn more clicks into conversions and increase revenue through continuously A/B testing different versions of a page.
Multivariate Testing
Intelligently test different combinations of changes to your landing page to understand which combination converts more visitors.
Split URL testing
Test large changes or different sales funnels by distributing your traffic between two different URLs to improve conversion rate performance.
Generate up to 4x more conversions with agile experimentation
Approximately 96% of site visitors don't convert into a lead or sale. This is why savvy marketers use CRO to improve performance across every step of a customer's journey. We make your marketing work harder by building experiences that convert prospects into customers through hyper-targeted personalisation – dramatically increasing digital advertising ROI and slashing your cost-per-acquisition.
Personalise at Scale
Dynamically deliver the most relevant landing page content to increase your conversions and revenue.
Third-party Integrations
Use first-party data from your analytics and other datasets or incorporate results into analytics reports.
Behaviour-based Testing
We deploy behaviour-based testing by using engagement data and the latest form analytics, heat mapping and recording technology .
Smart Notifications
Receive real-time notifications to let you know when tests go live, how they are performing, and how long they need to run.
Real-time Reporting
Providing real-time reporting and actionable insights to drive more leads and sales for your business.
Agile Experimentation
Minimise reliance on client-side development resources with our agile 'deploy faster' method.
99% Statistical Significance
All of our tests are calculated using a 99% statistical significance, resulting in 99% winning probability.
Campaign-specific Goals
Want to optimise a specific goal in an A/B test? We can track specific goals within larger experiments to analyse performance and insights.
Accelerated Mobile Pages
Test your visitors existing mobile browsing experience against accelerate mobile pages.
Powerful Segmentation
We optimise your landing page experience to make sure we show the right message, at the right time, on the right device.
Turbocharge revenue using systematic experience optimisation
Everyone wants their marketing to be more efficient. Captivate and convert your prospects with the most relevant landing page experience – without involving your development team.
Drive incremental improvement through proven conversion optimisation methodologies that focus on the entire customer journey. We turn your website visitors into more leads and sales using personalised content and a structured testing approach to ensure every step of the sales funnel is relevant.
Our team of conversion and data analysts, alongside our experienced UX designers, will address weaknesses in your site design that are having a direct impact on conversions, and then develop a systematic testing roadmap with a core emphasis on rapidly growing your ROI.
Our large breadth of specialism covers every facet of a customer's path to conversion, providing you with integrated conversion optimisation capabilities that minimises the guesswork and can be scaled as your business grows.
PERFORMANCE GUARANTEED
By leveraging our own proprietary data intelligence technology and combining this with first-party audience insights, it allows us to analyse thousands of different data points to deliver superior campaign performance. Our unique approach to digital strategy and execution simply unlocks real revenue opportunities and is what sets us apart from other digital agencies to drive scalable, cost-effective, and outcome-driven digital performance.
COLLABORATIVE AND ADAPTABLE
We are a high functioning and experienced team of digital and technical specialists that's core focus is delivering performance for our clients in a fast pace environment. We see ourselves as a collaborative partnership, an extension of your own team, industry experts who understand the entire digital ecosystem, from sophisticated tracking configurations, data analytics, and web programming, to multi-channel strategy and execution – the necessary tools needed to gain a competitive advantage.
HIGH RETENTION & PROVEN SUCCESS
We pride ourselves on delivering a proactive and innovative approach for our clients – no matter how big or small, as we believe these are the foundations of a great partnership in achieving tangible business growth. Our proven ability to drive scalable and efficient digital performance underpins our long-standing partnerships with both small and leading ASX listed brands, making us one of the fastest-growing agencies in Australia.
Make smarter decisions
with powerful reporting
Using advanced analytics and reporting, we simplify your data to deliver clear, actionable insights that drive continuous improvement. By strategically segmenting and analysing multiple audience profiles of your customers, ensures that we are purely focusing on high-intent customers who are most likely to purchase – driving efficient, targeted, and scalable campaign performance.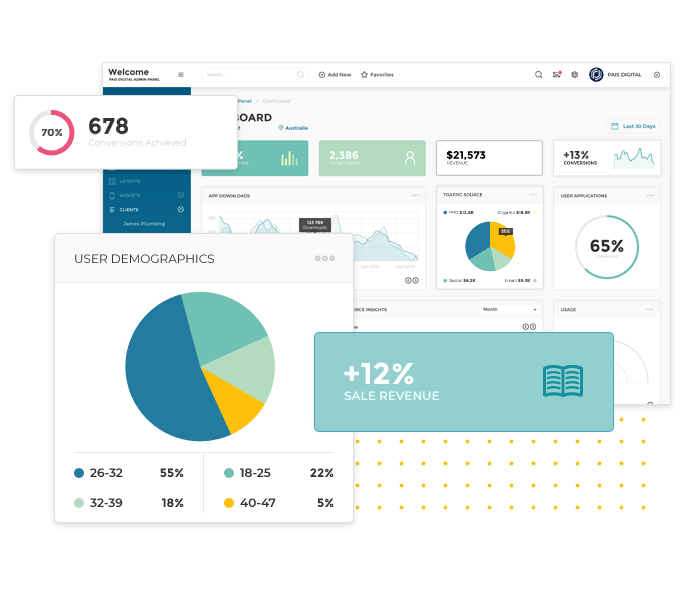 We believe in transparency
We don't work in a black box. We provide 100% transparency on everything that we do and deliver clear, measurable results. And your data is always yours!
We build partnerships
We are not just another digital agency. We pick you just as much as you pick us. This means: we only partner with you if you're truly invested in growing your business.
We deliver results
We guarantee accelerated growth by delivering optimised digital experiences that improve conversion rates and increase your overall profitability.
MORE LEADS. MORE REVENUE. MORE PROFITS
Double your sales in the next 90 days. Starting today.
We'll reveal the proven secrets that double your leads and sales almost instantly by booking a FREE 30-Minute Strategy Session Call Today. (Value $1,549)
No obligation, no catches. Just honest advice to help you make the most informed decisions.
We partner with the best to give you an unfair advantage
Data informs everything we do, and that's why we leverage key partnerships with the leading conversion optimisation platforms so you have access to the best technology in the industry. Our agency holds tier-one certifications to ensure every facet of your digital strategy is set up to succeed long-term.
AMERICAN EXPRESS OPENAIR CINEMAS
See how we drove 42% increase in transactions whilst reducing acquisition costs by 19% in the first year
SOCIAL | SEARCH
THE SUN-HERALD CITY2SURF
How an audience-first digital strategy generated a 378% increase in online conversions.
SOCIAL | SEARCH | PROGRAMMATIC | REMARKETING